-10/30

(Sun)
-11/3

(Thu)
-11/4

(Fri)

Venue:

ACT CITY Hamamatsu Concert Hall

Venue:

ACT CITY Hamamatsu Music Seminar Hall
-11/3

(Thu)

- 6

(Sun)

Venue:

ACT CITY Hamamatsu Sunken Plaza
-11/5

(Sat)

- 6

(Sun)

Venue:

ACT CITY Hamamatsu Main Hall
10/

30

Sun

Pre-Concert
Time 13:00-16:00
Venue Soramo
Admission Free
Artist

TOKYO PIPE BAND, Tokyo Scottish BlueBell Club, Yoichi Izawa&Natsuko Matsui, Ken Aoki and the Dixieland Crackerjacks, Ta yeon geum
A pre-concert of ethnic music organized by the Hamamatsu Museum of Musical Instruments. With a Scottish Highlands pipe band, Scottish dance troupe, steelpan group, Dixieland jazz band, and a Samul Nori group from Korea gathered under one roof, this concert brings together folk musicians from Europe, North America, Central America, and Asia. It is a spectacular addition to the World Music Festival in Hamamatsu 2016.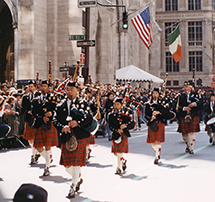 TOKYO PIPE BAND
The TOKYO PIPE BAND was formed in 1974 as Japan's first bagpipes appreciation society, to commemorate the visit of Queen Elizabeth II to Japan. The band continued to hone their skills, winning back-to-back victories at the Hong Kong Pipe Band Championships in 1989 and 1990. Since then, they have performed and won awards in France and other overseas destinations.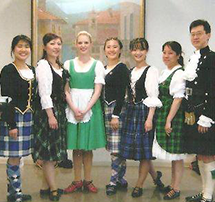 Tokyo Scottish BlueBell Club
Established in 1983, the Scottish Bluebell Club under the auspices of the Edinburgh-based Royal Scottish Country Dance Society is intimate with Scotland through dance. The Club is the only Scottish dance group in Japan that receives instruction on both Country Dance and Highland Dance from the certified dancing-masters who were trained in Scotland.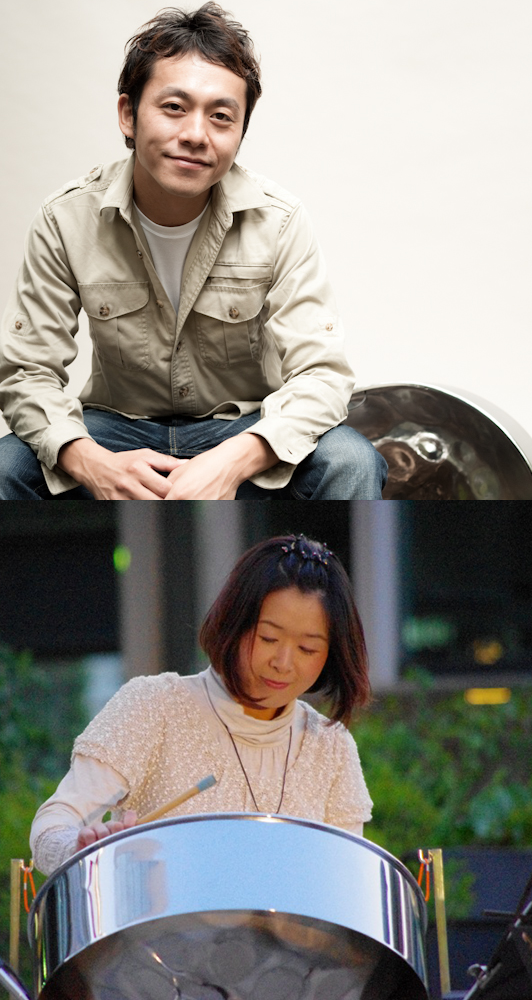 Yoichi Izawa&Natsuko Matsui
Yoichi Izawa
Yoichi Izawa, a graduate of Tokyo College of Music, formed his own steelpan orchestra, the WAIWAI STEEL BAND, in 2008. He composes and arranges all repertoire of the band. In June 2016, he released his second album, LAMP. Currently he is energetically engaged in various activities such as joint performance with other musical instrumentists as well as recording, supporting works and among others.
Natsuko Matsui
Natsuko Matsui, a graduate of Tokyo College of Music, published Japan's first practice manual for the steelpan, Hajimeyo! Kantan Suteki ni Sugu Hikeru Steelpan [Let's Start! Learn to Play the Steelpan Quickly, Easily and Wonderfully] in 2014. She is currently living in the city of Toyohashi in Aichi Prefecture, actively performing the steelpan and the marimba. She is also a part-time lecturer in the Faculty of Child Development of Nihon Fukushi University.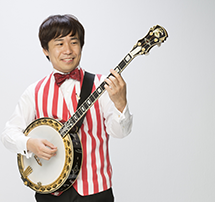 Ken Aoki and the Dixieland Crackerjacks
Ken Aoki (banjo),
Yoshihiro Nakagawa (trumpet),
Eijiro Nakagawa (trombone),
Atsushi Matsunaga (tuba),
Koki Nando (drums),
Masahiro Goto (clarinet)
Ken Aoki first took up the banjo at the age of thirteen, and mastered the four-string banjo almost by teaching himself. Now he is a world-renowned banjo player, regularly invited to festivals, such as the 2010 Banjo Jubilee Jazz Festival in San Jose, the FIGA All-American Banjo Convention in 2011, and the Hungary Jazz Festival in 2013.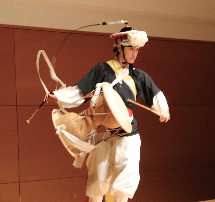 Ta yeon geum
Chang-seop Lee, Hwa-sun Cho, Chun-gang Kim, Kaori Cho, and Sun-young Bark (Geomungo)
A traditional Korean music group comprising performers who have studied under masters of Korean traditional music. The group was given the name, Ta Yeon Geum, by Kwang-soo Lee, one of the founders of samul nori, a representative genre of Korean traditional music.
11/

3

Thu

Opening Ceremony・Hamamatsu Downtown Concert
Opening Ceremony
Time 13:00-13:30
Venue Soramo
Admission Free
Hamamatsu Downtown Concert
Time 14:00-16:00
Venue Soramo
Admission Free
Artist

TULUS, Natalie McCool, Pablo Moraes
Featuring performances by TULUS, an artist from the Indonesian city of Bandung, with which Hamamatsu has an exchange agreement, Natalie McCool from Liverpool in the United Kingdom, and Pablo Moraes from Salvador in Brazil.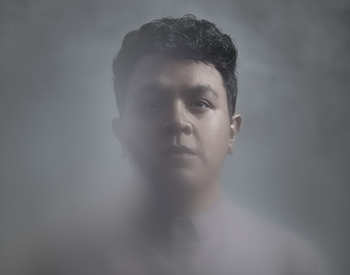 TULUS
TULUS was born in West Sumatera and now resides in a city of Bandung, Indonesia. He holds a bachelor degree in Architecture. In his continuous study on Architecture, he finds an exceptional bond between Architecture and Music. As a live performer, he has performed many stages throughout Indonesia, and even aboard. He has achieved various awards since his debut in 2013 until today. In 2015, he received reputable 9 awards such as "Best Musician of the Year" from Java Jazz, or "Best Male Pop Singer" from AMI Awards Indonesia. He released "Kutsu" in Japanese translation from his popular song "Sepatu" which is renowned by both local and Japanese residents in Indonesia.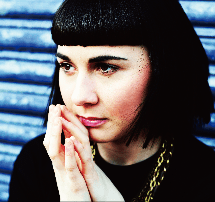 Natalie McCool
Natalie McCool's unique, sophisticated style of alt-pop has received many accolades in the media. BBC Introducing has hailed her as "one of the best up-and-coming songwriters today."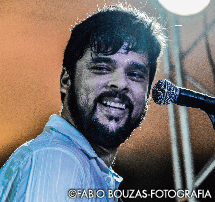 Pablo Moraes
Pablo Moraes incorporates a variety of music styles into his performance, with the guitar taking center stage. He is fast cementing his place in Brazil's music scene with his CD and DVD releases.
World heritage: Javanese wayang kulit, gamelan and dance
Time 17:30-19:30
Venue Soramo
Admission Free
Artist

Lambangsari(Gamelan), Sumiyanto(Dalang), Kaori Okado, Miray Kawashima(Javanese dance)
The Indonesian musical traditions of gamelan, shadow puppets, and dancing will be on display. These performances will recreate the outdoor style that is actually used in Indonesia. A wonderful opportunity to experience the music culture of Indonesia.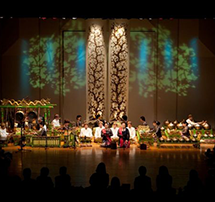 Lambangsari
Formed in 1985, this Javanese Gamelan ensemble invites instructors from Indonesia while traveling to Indonesia to hone their skills. Their performances have received excellent reviews. The ensemble is widely active in the community, performing in their own concerts, participating in various events and school arts festivals, and holding workshops. They have also performed at festivals in Indonesia and Malaysia. In 2013, they released a CD, entitled "Hamamatsu City Museum of Musical Instruments Collection Series: Javanese Gamalan – the Brilliance of the Bronze Percussion in Central Java, Indonesia." http://www.lambangsari.com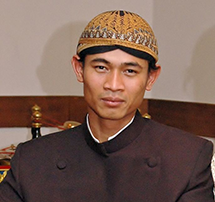 Sumiyanto
Sumiyanto graduated from the Indonesian Institute of the Arts, Surakarta. He began performing Gamelan while still a student, and now collaborates with modern composers from the United States, Eastern Europe, and Japan. Since coming to Japan in 2006, he has been active as a Gamelan performer and Dalang (puppet master) for Wayang shadow puppet theater. His compelling Wayang performances, which he gives entirely in Japanese, convey the atmosphere of Java in a way that is easy to understand.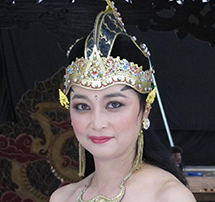 Kaori Okado
Kaori Okado began studying Javanese and Balinese dances and Gamelan while studying at the California Institute of the Arts. In 2003, she studied at the Indonesian Institute of the Arts, Surakarta. After returning home, she entered graduate school, where she published research papers on the dance of Mangkunegaran Palace and the social comprehensive application of Javanese arts. She has also conducted academic research and given dance recitals in Central Java. She returned to Japan in March 2016, and now works based in Aichi Prefecture.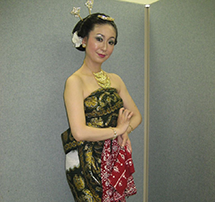 Miray Kawashima
A graduate of Kyoritsu Women's University, Miray Kawashima honed her dancing techniques at the Indonesian Institute of the Arts, Surakarta and Mangkunegaran Palace from 2001 to 2004. In 2006, she joined forces with Javanese dancer, Rianto, to form the Dewandaru Dance Company with the aim to disseminate Javanese dance and foster next-generation dancers. She performs in Japan and throughout the world, including Indonesia, Singapore, Malaysia, and Hawaii.
Hamamatsu Downtown Concert
Time 14:00-17:00
Venue Kitara
Admission Free
Artist

Aoyama Band, Takayoshi Okuyama, Chesmaika, BLUE NOTES Orchestra, Golonka
With the cooperation of the Hamamatsu Jazz Society and the Yaramaika Music Festival Organizing Committee, artists and groups that are active in various parts of Japan, particularly Hamamatsu, will perform. Golonka, from Adelaide, Australia, will be guest performers at this concert.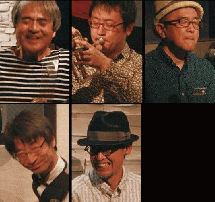 Aoyama Band
A five-member band, featuring flugelhorn, guitar, keyboard, bass and drums. Since forming more than thirty years ago, Aoyama Band has been playing original music, with a focus on jazz and fusion. Even today, they give passionate performances in their quest for new instrumental horizons.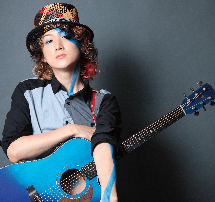 Takayoshi Okuyama
Takayoshi Okuyama, a Hamamatsu born singer-song writer, stuns audiences with his fingerpicking guitar playing, combined in a sublime imbalance with his extremely unique voice. He demonstrates his talents in diverse fields as a singer, solo guitarist, composer, and actor.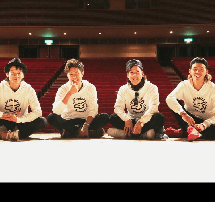 Chesmaika
A four-member vocal unit whose inspirational lyrics and catchy melodies have won them fans of all ages.
Coming soon!
"Chesmaika Live in a 1000-Seat Hall" on November 19, 2016 !!!!
A Chesmaika whirlwind is about to break out all over Japan!!!!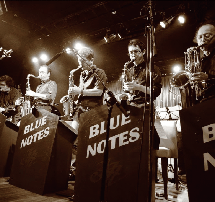 BLUE NOTES Orchestra
Blue Notes Jazz Orchestra, comprised of professional and amateur musicians living in Hamamatsu, was formed to "transmit music culture from Hamamatsu". Their first album "30th Anniversary" was released in 2005. Their catchphrase is "Fire-breathing brass, transcendental saxophone, impregnable rhythm, and wild solos!"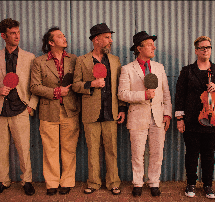 Golonka
Golonka have been playing gypsy tunes and the folk music of Eastern Europe for many years, making wild and beautiful music with their own, unique style. The exquisite melodies created by weaving together of the sounds of the contrabass, fiddle, clarinet, and accordion never fail to captivate audiences.
11/

3

Thu

Music Exchange Concert
〈Chorus × Symphony!〉
Time 14:30-17:00
Venue ACT CITY Hamamatsu Concert Hall
Ticket Non-reserved Adult:1,000yen Student:500yen (P-Code:306-302)
Artist

Kentaro Sato, Tongyeong Municipal Boy's and Girl's Choir, Polish boys and girls Chorus group Balbiny, Hamamatsu Choral Association(Voix Vert, Chorus ・Nanohana &amp Mugiwarabousi, Chorus Yuki, Chorale Accord, Junior Choir Hamamatsu, Hamakita Junior Choir, Hamamatsu Ensemble Freesia, Hamamatsu Choir, Hamamatsu Kinder Chor, Hamamatsu Municipal High School Choir , Hamamatsu Chamber Choir, Hamamatsu Frauen Chor, Hamamatsu Lionet Children Choir, Northern Female Chorus Aoi, and the others), Hamamatsu Symphony Orchestra, Junior Orchestra Hamamatsu
Part 1

Female Chorus, Children's Chorus, Mixed Chorus Conductor:Kentaro Sato

Part 2

Tongyeong Municipal Boy's and Girl's Choir, Polish boys and girls Chorus group Balbiny

Part 3

Commissioned work by Kentaro Sato for the World Music Festival in Hamamatsu, World premiere  Conductor:Kentaro Sato
Hamamatsu Symphony Orchestra, Junior Orchestra Hamamatsu, the citizens' choir
With the cooperation of the Hamamatsu Choral Association and the Hamamatsu Symphony Orchestra, choirs belonging to the Hamamatsu Choral Association have come together to form a citizens' choir of about 150 members, especially for the World Music Festival. In the first part of the concert, the citizens' choir will present a work by Hamamatsu-born composer-arranger and conductor, Kentaro Sato. In the second part, guest choirs from overseas will perform. The third and final part will feature the world debut of a work commissioned from Kentaro Sato, with orchestral accompaniment.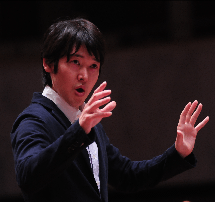 Kentaro Sato
Kentaro Sato (b.1981), Ken-P to his friends, is an award-winning composer/conductor. His musical works have been featured in TV/Film media, game industry and concert performing groups around the world. He was born and raised in Hamamatsu, and received his bachelor and master degrees in Music from California State University, Northridge, and his associate degrees in Cinema and Music from Santa Monica College.
Tongyeong Municipal Boy's and Girl's Choir
Since the founding concert in January, 1996, Tongyeong Municipal Boy's and Girl's Choir has been active in and outside of the country. They have kept contributing to cultural exchange with many international choirs such as the Vienna Boys' Choir and the Prague Boy's and Girl's Choir, and have taken a cruel role as the choir representing the city of Tongyeong. In 2009, they obtained the Silver Diploma in World Choir Championship and were highly recognized of their musical potentiality and achievements.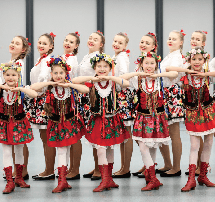 Polish boys and girls Chorus group Balbiny
Balbiny Studio Vocal was created by Maria Seibert over 30 years ago and it has been ran by her until today. The group belongs to the Centre of Culture and Education in Malbork city. More than two hundred people have sung with the group over the years. The instructor of the groups certainly has the ability to search for and develop talents which are often genuine pearls. It has received numerous awards in national and international competitions, for example in Germany, France, Italy, Bulgaria, and Moldova. Also, they have recorded 6 albums and the group is willingly invited to perform at concerts. Continuous improvement of vocal and choreographic skills, the experience gained in recording and TV studios, and the co-operation with important figures of the Polish musical stage have placed the group among the top ranked national children and youth groups.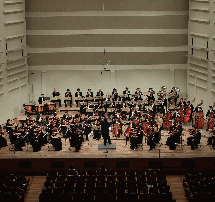 Hamamatsu Symphony Orchestra
The Hamamatsu Symphony Orchestra was founded by the Hamamatsu Junior Chamber in 1976 aiming to evolve from a city of musical instruments into a city of music. The orchestra became an incorporated foundation in 1978, and in April 2012, its status changed to a public-interest incorporated foundation. The Orchestra currently has 120 members who are engaged in community-based activities including two subscription concerts a year and orchestra-oriented seminars/workshops.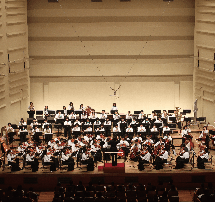 Junior Orchestra Hamamatsu
Junior Orchestra Hamamatsu was established by the City of Hamamatsu in 1994 with the purpose of nurturing young leaders of the 21st century who will take part in promoting "City of Music". The orchestra consists of approx. 100 members ranging from elementary 3rd graders to high school seniors selected by the yearly audition. The Orchestra enthusiastically engages in joint performances with its sister organization, Junior Choir Hamamatsu.
11/

3

Thu

Music Exchange Concert
〈Piano!Piano!Piano!〉
- 100 Tips to Enjoy Life with Piano -
Time 14:30-16:30
Venue Hamakita Culture Center
Ticket Non-reserved Adult:1,000yen Student:500yen (P-Code:306-304)
Artist

Mino Kabasawa, Pianistar HIROSHI, The Frank Nuyts Ad Hoc Ensemble
Concert planned and run by graduates of the music training seminars that Hamamatsu ACT City Academy of Music conducts for the city's general public. Mino Kabasawa, host of the television program, La-La-La ♪ Classic, on NHK, Japan's national broadcaster, and the Pianistar HIROSHI, who counts among his many talents the ability to play two different pieces on the piano simultaneously with his left and right hands, will present the appeal of the piano and show the audience how to bring enjoyment to life with the piano. The Frank Nuyts Ad Hoc Ensemble from the Belgian city of Ghent will be the guest performers at the concert. Look forward to this concert planned by the citizens of Hamamatsu for the citizens of Hamamatsu!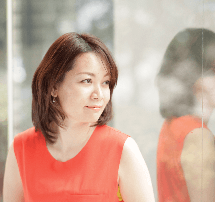 Mino Kabasawa
While studying at Tokyo University of the Arts, Mino Kabasawa, pianist and composer, released her debut CD from Nippon Columbia, and has released more than 20 CDs since. She has numerous Japanese film music credits to her name, including Chirusoku no Natsu, Yokka-kan no Kiseki, Sea Without Exit, Hitoya ni Saku Hana, Nichirin no Isan [The Legacy of the Sun], Looking for a True Fiancée, Tsure ga Utsu ni Narimasite, and Raia no Inori. She also composed the music for the stage version of Kurobe no Taiyo [The Sands of Kurobe]. She has appeared as a compere on the television program, Daimei no Nai Ongakukai [Untitled Concert], and on NHK FM radio on Meikyoku Recital, and is currently the co-host of La-La-La ♪ Classic on the NHK educational TV channel. Her joint concerts with violinist, Chisako Takashima, are very popular.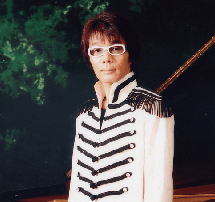 Pianistar HIROSHI
Pianistar Hiroshi began writing and arranging for music publications such as Richard Clayderman anthologies, Keyboard Magazine, and Chopin when he was still a student. He is very active as a pianist and keyboard player proficient in many genres, from classical to rock, pop, and even enka, the uniquely Japanese traditional style of ballads.
His unique and entertaining live performances break down the rigidly formal image of the typical piano concert. From medleys rich in variety to playing a pop piece with his right hand while playing classical music with his left hand, he has established his own unique, totally unexpected piano sound.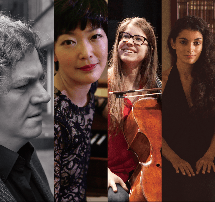 The Frank Nuyts Ad Hoc Ensemble
The Frank Nuyts Ad Hoc Ensemble is a group of musicians who came together to perform the works of prominent contemporary composer, Frank Nuyts.
artonto
Atsushi Takano,Chiaki Yabushita,Akemi Suzuki,Kengo Inuduka,Tatsuki Furuhashi
"artonto", a compound word of "art" and "onto" (city of music) is a project team organized by the graduates of the Concert Host Training Seminar under the auspices of ACT CITY Academy of Music. As the name suggests, the team is determined to contribute to promoting 'City of Music'.
11/

3

Thu

Music Exchange Concert
〈Percussion!〉
Time 14:30-16:30
Venue Yuto Culture Center
Ticket Non-reserved Adult:1,000yen Student:500yen (P-Code:306-307)
Artist

Yoichi Izawa WAIWAI STEEL BAND, Ta yeon geum, KAIKO/500, BANA BATEKE
This concert will feature performances of a wonderful variety of percussion instruments, including the steelpan, which has been described as the last acoustic instrument of the 20th century, as well as Samul Nori, a genre of percussion music that has its roots in the Korean folk music tradition of Pungmul, KAIKO 500, Hamamatsu's own all-girl taiko drum troupe, and BANA BATEKE, the drum orchestra from Brazzaville in the Republic of the Congo. If you're lucky, there might even be a mass collaborative performance by all of the acts for the finale!?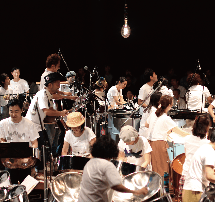 Yoichi Izawa
WAIWAI STEEL BAND
The Waiwai Steel Band was formed around a steelpan player, Yoichi Izawa in 2008. The band is usually a massive group with more than 50 steelpans, accompanied by drums and percussions, known for its cheerful staging and a powerful performance that seems to plunge through the darkness. Today's performance will be showcased by the selected members.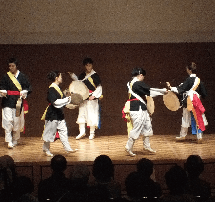 Ta yeon geum
Chang-seop Lee, Hwa-sun Cho, Chun-gang Kim, Kaori Cho, and Sun-young Bark (Geomungo)
A traditional Korean music group comprising performers who have studied under masters of Korean traditional music. The group was given the name, Ta Yeon Geum, by Kwang-soo Lee, one of the founders of samul nori, a representative genre of Korean traditional music.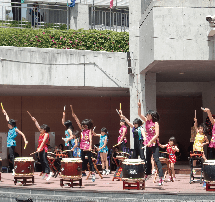 KAIKO/500
'Kaiko 500', founded in 1998, was named after its debut stage which took place in the related event with 'The 500th Year Ceremony of Hamanako Lake Open '. 'Kaiko' 'is a phonetic equivalent of 'Lake Open ('Kaiko' in Japanese translation)'. The group has about 100 members from kindergarten children to adults. We are devoted ourselves to practicing and performing Japanese drums in order to fulfill our missions: to encourage people to enjoy living with a full of motivation, to nurture a mind of consideration to others, and ultimately to contribute to the development of our vigorous community. 'Kaiko 500' has given performances over 1000 times till today both in Japan and overseas including Korea, Poland and Turkey for exchange purposes.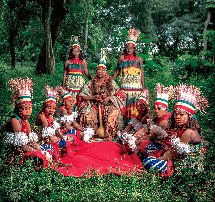 BANA BATEKE
Musician Alexis Mpinimoba formed BANA BATEKE, drawing his inspiration from the musical tradition of the Téké people in the Cuvette-Ouest region of the Republic of the Congo. While contributing to the promotion of the traditional music of Congo, BANA BATEKE continues to promote peace through its music.
11/

4

Fri

Music Exchange Concert
〈Samba×Brass Band!〉
Time 18:30-20:30
Venue ACT CITY Hamamatsu Concert Hall
Ticket Non-reserved Adult:1,000yen Student:500yen (P-Code:306-311)
Part 1

Hamamatsu City Elementary Schools' Joint Brass Band
Hamamatsu Kaisei Junior High School Wind Orchestra, Hamamatsu Uminohoshi High School Wind Band

Part 2

Joint Performance for Three Bands, Participants for Workshop, Escola de Samba Hamamatsu Alegria Independente
Artist

Sadahide Yamashita(Trombone), Francis Silva(Percussion), Luis Valle(Trumpet), Gene Shigemura(Drums), Marcelo Kimura(Guitar), Escola de Samba Hamamatsu Alegria Independente, Participants for Workshop, Hamamatsu City Elementary Schools' Joint Brass Band, Hamamatsu Kaisei Junior High School Wind Orchestra, Hamamatsu Uminohoshi High School Wind Band
Under the direction of Sadahide Yamashita, who graduated from Kunitachi College of Music before traveling to Säo Paulo, the home of samba, to study composition at the Conservatório de Tatuí, elementary, middle, and high school students from around Hamamatsu will present the fruits of their many hours of practice of Brazilian music, particularly samba, with wind instruments. The participants of an "Enjoying the Rhythms of Samba" workshop taught by Sadahide Yamashita and Francis Silva will also perform. Besides the wind instruments, the local Escola de Samba Hamamatsu, "Alegria Independente," will take part in the concert, adding color and spectacle to the stage.
Sadahide Yamashita
(Trombone)
Graduated from the department of instrumental performance of the Kunitachi College of Music, Sadahide Yamashita studied composition at Universidade Livre De Musica Tom Jobim and studied trombone under Raul de Souza. In 1993, he joined the Banda Sinfonica Jovem do Estado de Sao Paulo, and started teaching the euphonium at the university at the same time. He supported tours of many big bands or singers with his trombone. He established his own company, Sambista after he returned his homeland. He also launched "Orquestra Sambador Oriente", Japan's first big band specializing in Brazilian music. He is currently involved in various activities all over Japan to disseminate "Brazilian music with wind instruments".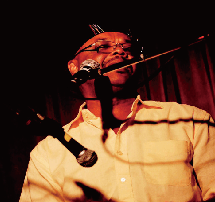 Francis Silva
(Percussion)
Francis began performing at a very young age, and studied at the Berklee College of Music. He has performed with many prominent musicians, including Sonny Rollins and Stan Getz. He came to Japan in 1979, where he founded a Brazilian samba group, Escola de Samba Cruzeiro do Sul, and Mukade Brasil, a music academy designed to promote Afro-Brazilian culture in Japan. He played on recordings and live performances of Japanese artists such as Naoya Matsuoka, Marcia, SMAP, and MALTA. Today, as the father of Brazilian music in Japan, he continues to devote himself to his goal of "making the samba a part of Japanese culture."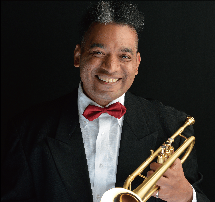 Luis Valle
(Trumpet)
Born in Havana, Cuba. Studied at the Amadeo Roldan Conservatory. In 1993, Luis and three of his brothers formed their own band, called "Yumuri y sus hermanos." At the tender age of 21, he was the group's lead trumpeter. He moved to Japan in 1997, where he formed the bands, "Tropicante" and "Afro-Qhamigos!" Bringing out the richness and depth unique to Cuban music, the music that he creates stimulates and inspires. He has performed backing trumpet for Japanese musicians such as Eikichi Yazawa and BIRD. He released his debut album, AGARRATE! in 2001.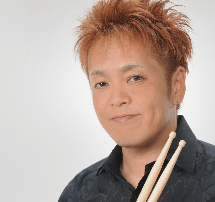 Gene Shigemura
(Drums)
Born in Osaka Prefecture in 1973, Gene started learning drums and playing in a band when he was 14 years old. At the age of 19, while still at university, he became a teacher at the Monden Sound Clinic. Later, he moved to Tokyo, where he studied under Kazuhiro Ebisawa. Then he made his professional debut and started working as a session drummer. In 2004, he became a regular on the NHK children's program, Yume Rinrin Maru. In the studio, he has played on the albums of many artists, including Mika Nakashima, Doris, arvin homa aya, Chieko Tstsumi, and MALTA.
With his wide-ranging musicality, he is well-known for the steadiness of his rhythm and his delicate yet bold drumming, in any genre, including jazz, latin, funk, and pop, and is held in high regard by many musicians. He is currently kept busy on a range of fronts, focusing on the Kanto region, including session music and studio work. He is an endorser of Canopus drums and Zildjian cymbals.
Marcelo Kimura(Guitar)
Born in Sao Paulo, Brazil in 1979, he familiarized himself with the guitar at an early age under the influence of his guitarist grandfather. He studied classical guitar at Conservatorio Musical de Tatui, the largest music school in Latin America, and jazz guitar under Ary Piasarollo. At the tender age of sixteen, he was offered a teaching position at a music school in Tatui, which he accepted. Later, he became just as skilled in rock and jazz guitar as in choro, samba, and bossa nova, and developed his own unique style of sound. He has since moved his base to Japan, opening Musica & Bar Marcelo in Nagoya. He plays in sessions with famous artists such as Lisa Ono and Paula Lima, and is committed to nurturing young musicians, giving them opportunities to play. In October 2013, he released his first solo album, Morro Do Urbana.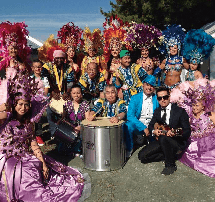 Escola de Samba Hamamatsu Alegria Independente
Hamamatsu Allegria Independente performs in and around the city of Hamamatsu, with the desire to convey the appeal of samba, the epitome of Brazilian culture, and to enjoy it with everyone. The group appears every year at the Shizuoka Samba Carnival held in May and at Festa Samba hosted by the City of Hamamatsu in autumn.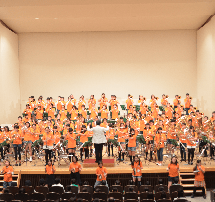 Hamamatsu City Elementary Schools' Joint Brass Band
Hello Everyone! We are the Hamamatsu City Elementary Schools' Joint Brass Band. This year marks the seventh year of our band with 121 school children from 14 schools in the city. We hope you can enjoy our fun performance that only school children can offer.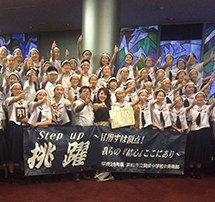 Hamamatsu Kaisei Junior High School Wind Orchestra
With our motto of "Step up! Go for the top! This is our team spirit!", we are aiming for building up friendship through which we can improve ourselves beyond graders. We will continue to work hard as a junior high school brass band representing the City of Music, Hamamatsu. We look forward to your continued support.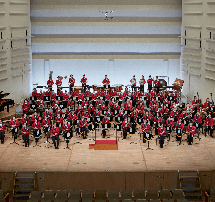 Hamamatsu Uminohoshi High School Wind Band
Hamamatsu Uminohoshi High School celebrates its 60th anniversary this year. The girl's high school will become co-educational from the 2017 academic year and change its name to "Hamamatsu Seisei High School".
Besides participation in national competitions, the Uminohoshi Wind Band is actively engaged in performance activities including local and subscription concerts. The band has won the grand prize at the Japan School Wind Band Jazz and Pop Grand Prix Competition for four consecutive years.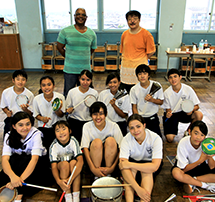 Participants for Workshop
Participants for "Enjoy the Rhythm of Samba Music", the workshop instructed by Mr. Sadahide Yamashita and Mr. Francis Silva in August and September.
11/

4

Fri

Folkloric Music Concert
<Diva of Buryat Republic Baikal>
Time 19:00-21:00
Venue ACT CITY Hamamatsu Music Seminar Hall
Ticket Non-reserved Adult:1,000yen Student:500yen (P-Code:306-314)
Artist

Namgar Lkhasaranova(Vocal/Yatga/Jew's harp), Eugenii Zolotarev(Chanza/Bass/Chorus), Timur Zolotarev(Guitar/Chorus), Masahiko Todoriki(Throat-singing/Igil), Akira Horikoshi(Percussion/Drums)
The republic of Buryatia, located to the south-east of Lake Baikal in eastern Siberia, has a unique culture that is a blend of Russian, Chinese and Mongolian influences. Buryatian songstress, Namgar Lkhasaranova, will come to Japan to perform at the World Music Festival. Interspersed with commentary by the Director of the Museum of Musical Instruments, he will introduce the music and culture of Buryatia to the audience.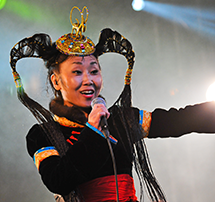 Namgar Lkhasaranova
(Vocal/Yatga/Jew's harp)
A native of the Republic of Buryatia, Namgar Lkhasaranova graduated from the Jazz and Contemporary Music Department of Gnessin State Musical College. She recreates songs and dances that have been passed down in the nomadic Buryat tribe since ancient times, and also takes rediscovered shaman songs, mainly from the Lake Baikal region, that worship the gods of nature, namely the sun, moon, trees, wind, clouds and horses, and recreates them by adding new rhythms. Her performances have created a sensation not only in Russia but throughout the world, including France, the Netherlands, Denmark, Germany, Canada, the United States, and Malaysia. She is a Meritorious Artist of the Republic of Buryatia, Meritorious Person of Culture of the Aginski District, and Artistic Director for Northern Worlds, the Russian-Norwegian cultural foundation.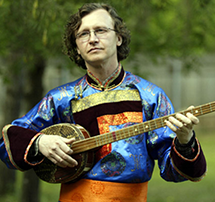 Eugenii Zolotarev
(Chanza/Bass/Chorus)
Born in Ulan-Ude in the Republic of Buryatia, Eugenii Zolotarev is descended from a family of Polish aristocrats who were exiled to Siberia during the era of the Russian Empire. He graduated from the East Siberian State Academy of Culture and Arts. His musical activity initially revolved around the Ulan-Ude band, Selenga, but when Namgar Lkhasaranova lent her vocals to Selenga, they decided to form the world music band, Namgar, to create music with a strong, pronounced beat. He performs in Russia and around the world. He is a master of the Chanza, a three-stringed instrument made with snake skin.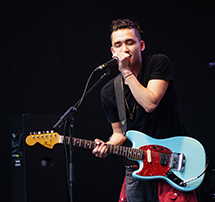 Timur Zolotarev
(Guitar/Chorus)
Timur Zolotarev was born in a small village on the steppes in Buryatia. The son of Namgar and Eugenii, he is of mixed Buryat, Russian and Polish descent. After graduating from university in Moscow, he resolved to become a musician. He has loved music since he was a child, and grew up listening to Buryat folk music. He joined his parents' band, Namgar, as guitarist in 2011. He is one of only a handful of young Buryat musicians and a rising star in world music.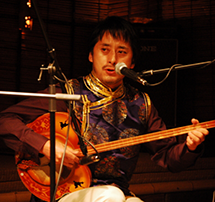 Masahiko Todoriki
(Throat-singing/Igil)
A performer of folk music of the South Siberian tribe of Tuva. For more than ten years, he has been researching the traditional music of the Tuvans, including their unique throat singing style known as Khoomei. He has performed with and contributed to the albums of a wide range of Japanese and overseas musicians, including Morio Agata, Ikue Asazaki, Umeko Ando, EPO, OKI, Kotaro Oshio, Misako Kojya, Tetsuhiro Daiku, and Huun-Huur-Tu. He also performs in a unit called Tarbagan with Haruhiko Saga, a specialist in Mongolian folk music.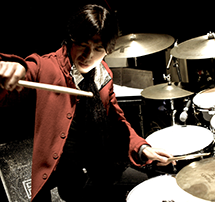 Akira Horikoshi
(Percussion/Drums)
Akira Horikoshi made his professional debut in 1990 in the Yosuke Yamashita New Trio. While his main instrument is the jazz drum, his play style transcends genres, freely blending elements from all ages and cultures, including traditional Japanese music and folk music. He heads up a number of groups, including Toho-Ibun, a group that plays Japanese traditional instruments such as the Satsuma biwa, shakuhachi, and bamboo flute, The Will, a "three-person orchestra without limits," with pianist, Jun Fukamachi, and violinist, Tsuyoshi Watanabe, SOLO-ist, which transcends the boundaries of music and art, and Lotus Position, with shakuhachi player, Akihito Obama.
11/

3

Thu

-11/

6

Sun

World Food Festival
Time 11:30-19:00
Venue ACT CITY Hamamatsu Sunken Plaza
You can enjoy the worldwide cuisine at ACT CITY Sunken Plaza.
Store

Hawaiian Dining Bar ALO ALO/ America
Restaurante Mineiro Trem Baum/ Brazil
Kashmir/ India
KUMAR/ India
BARIS/ Indonesia
TUBS/ Indonesia
Kankokumura/ Korea
La Sexta/ Mexico
TOMI'S INTERNATIONA/ Peru
Cocina Española tio akira/ Spain
LaLaCurrey/ Sri Lanka
Rattana/ Thailand
PHO HANOI Second/ Vietnam
CAFE SAIGON/ Vietnam