- Participants -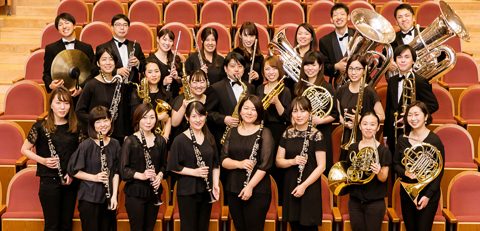 Philharmonic Winds HAMAMATSU

 Founded in 2011 as the first permanent professional wind orchestra representing "City of Music, Hamamatsu", the Pilharmonic Winds HAMAMAMTSU is affectionately known as "Phil HAMA".
 The member musicians, consisting of residents or natives of Hamamatsu who grew up in the blessed musical environment and obtained special knowledge at music college, gathered together for foundation of the wind orchestra. Having invited composer Hiroshi Hoshina, one of the most distinguished composers in Japan, the orchestra is aiming to create rich, resonant sounds.
 Phil HAMA started giving performances at the same time of its foundation for "H. Hoshina's lectures on analysis and interpretation as well as conducting of wind instrument music" and "WaYo Sogaku Concert" (Japanese and Western Music Concert).
 The orchestra's performance activities are varied including "Music Day in Kato 2015" (Oct.), "Kanazawa Junior Creative Culture YUME KUKAN 2015" (Nov.), "World Music Festival IN Hamamatsu 2016" (Jun.), "Hoshina Festival celebrating his 80th birthday" (Nov. 2016) and many others.
 The orchestra was also engaged in screening in the audition of Hamamatsu All-Star Junior High School Wind Orchestra", which was well evaluated for its contribution to the city of Hamamatsu.
 In April 2018, Phil HAMA released its first and challenging self-produced CD of collection of Hoshina's works, "Hoshina Festival", which can be a compilation of creation of music developed and accumulated by H. Hoshina and the orchestra ever since its debut.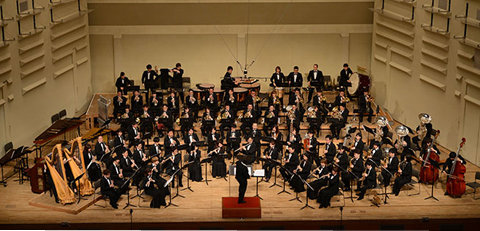 Yamaha Symphonic Band

 The Yamaha Symphonic Band (YSB) was established in 1961, with membership comprising Yamaha Corporation and Yamaha Group employees who are involved in the development, design, and production of Yamaha wind instruments, pianos, and electronic musical instruments. Some members play instruments they designed or manufactured themselves, making the YSB a true "Artisans Band."
 Band activities are based in the Hamamatsu area. In addition to performances, the band commissions new compositions every year. More than 70 new compositions have been added to the brass band repertoire thus far. In 2016 the band received their 33th gold award at the All Japan Band Competition, the highest number in all categories. Performances were held in Tokyo and Osaka in 2017, and a CD of the band's work entitled "The Sound of Yamaha – Artisans making music…II" was released in the same year. In 1995 the YSB received the 34th Shizuoka Culture Incentive Award for their enduring contributions spanning many years, and then in 2010 they were honored with the 20th Japan Wind, Percussion, and Brass Band Academy Award. The YSB has been active on Japan's concert band scene for more than half a century.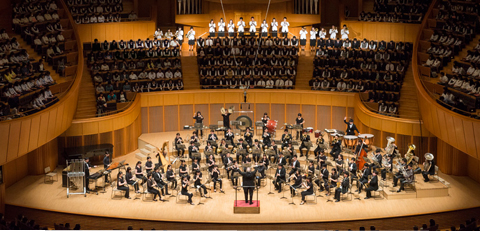 Shobi Wind Orchestra

 Shobi Wind Orchestra is comprised of selected students enrolled in the Department of Wind, String and Percussion (2-year course) and the Comprehensive Music Department (4-year course) of Shobi College of Music located in Bunkyo Ward, Tokyo.
 The orchestra's wide range of activities include subscription concerts, recordings, concert tours and band clinic activities, extending to performing with overseas composers and conductors.
 In 1990, invited by the Midwest Clinic in Chicago, USA, the orchestra gave the first overseas performance, which gained a high reputation.
 In 1994, the orchestra was invited as the first Japanese wind orchestra by Texas Music Educators Association (TEMA) and given an opportunity to tour across the land.
 In Korea and Taiwan, the orchestra has also received high acclaim for its genuine performance backed by high musicality.
 In addition, corroboration concerts with Siena Wind Orchestra (under the agreement of the industry-academic cooperation with the College since 2011) are always furnishing a topic of conversation.
 Currently under the direction of Takeshi Oi as a center figure, Toshio Ozawa, Shuichi Ishida, Akira Takeda and Orita Nobotta, the orchestra is actively engaged in research activities striving toward a wind ensemble which is able to express higher-level musicality.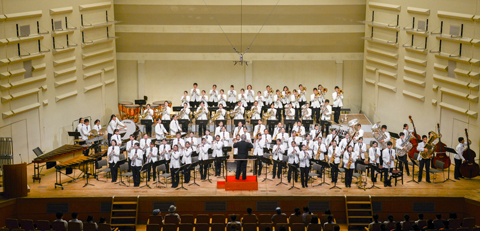 Hamamatsu All-Star Youth Wind Orchestra

 With a focus on participation in the 20th Conference of APBDA 2018, Hamamatsu All-Star Youth Wind Orchestra 'the Third' consists of 117 members, from 14 junior and senior high schools in Hamamatsu, selected by a yearly audition. The Orchestra 'the First' performed at the 19th Conference of APBDA in Beijing as well as World Music Festival in Hamamatsu in 2016. The Orchestra 'the Second' performed at the Commemorative Concert prior to the 20th APBDA Conference, Sapporo Art Stage 2017 and Sapporo School Music Festival in 2017. We have accumulated practical experiences through these opportunities to perform. The Orchestra 'the Third' is finally to perform at the 20th Conference of APBDA, looking forward to showcasing the fruit gained over our activities up till today.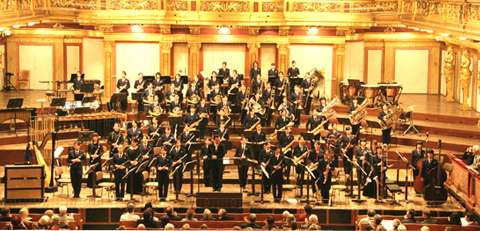 Hamamatsu Seisei High School Wind Orchestra

 This year Hamamatsu Seisei High School, a Christian high school, celebrates the 62th anniversary since its foundation. Formally known as Uminohoshi Girls' High School, the school changed its name two years ago upon adoption of co-education.
 The wind music club, the largest club in the school, is involved in various musical activities including participation in national wind music competitions such as All-Japan Band Competition, All Japan Ensemble Contest, All Japan High School Wind Band Conference, Japan Wind Orchestra, Ensemble Competition and many others. In addition, the orchestra has gained a high reputation in the field of jazz and pops due to the fact that it won grand prix for 5 years consecutively in All Japan Swing Brass Super Live.
 Besides competition participation, the orchestra is actively engaged in performance activities including overseas performances.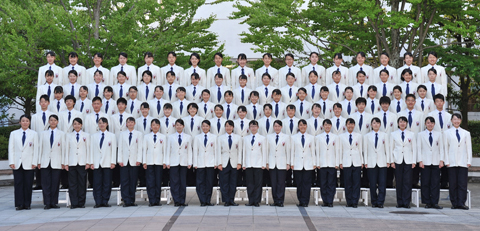 Hamamatsu Commercial High School Symphonic Band

 Hamamatsu Commercial High School symphonic Band was founded in 1954. Thanks to ceaseless efforts leading to today's activities by the predecessors for 60 years and more, about 90 members every year are actively participating in regional events as well as wind instrument music competitions and marching band contests. Within 3 –year limited time, the members are devoted to their musical activities aiming to create music and cultivate their minds of sincerity in order to share emotion with audience. They are engaged in everyday practice in the hope that they will become better members of society with "courtesy and moderation" while observing the history and tradition of the orchestra club.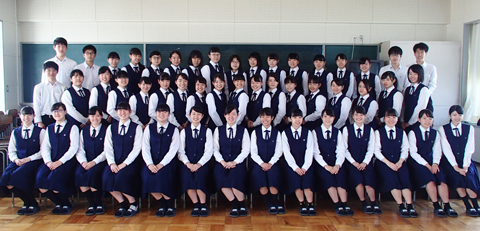 Hamakita Nishi Senior High School Wind Orchestra

 Our wind orchestra club was formed when the school was established in 1979. Thanks to great supports for our diverse activities by many people, we are to hold the 35th regular concert in September of this year. Following in the spirit of 'Voluntary Activities by Members' that has been developed over a long period of time, we are actively involved in musical activities including participation in competitions or contests. With the yearly motto "Sunflower ~ To Love and Be Loved", we are seeking bright and lively sound.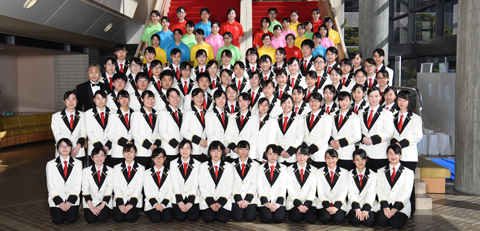 Hamana Senior High School Wind Orchestra

 With the motto "Wind Orchestra Club Is One Family" and "Breakthrough" as a password, all members are practicing toward "bold yet delicate" performances. Representing Shizuoka prefecture, we participated in all of higher-ranking competitions, achieving 1st prize at the Shizuoka Competition for the Central Japan Band Competition, 2nd prize (prize of superintendent of education of Shizuoka Prefecture) at the Shizuoka Band Competition and 1st prize (Asahi Prize) at the Shizuoka Ensemble Contest last year. We are regarded as one of the representative high school wind orchestras in Shizuoka prefecture.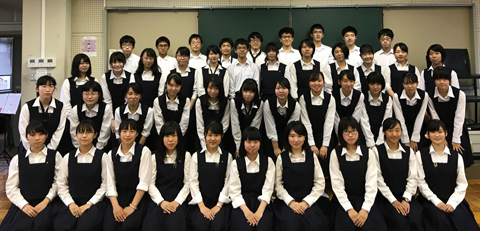 Hamamatsu Kita Senior High School Wind Orchestra

Our wind orchestra club with a long tradition is to hold the 50th regular concert this fiscal year. You may be aware both composer Yasuhide Ito and saxophonist Nobuya Sugawa used to be members of the club. Since the 2nd grade members usually retire as soon as they complete the March concert, the 1st and 2nd graders only are actually engaged in the club activities. Keeping a balance between studying and club activities, we are trying best to be as efficient as possible to generate good results even in a very limited practice time. Forty-three members are enjoying the current student-centered activities following our traditional spirit: Autonomy and Independence.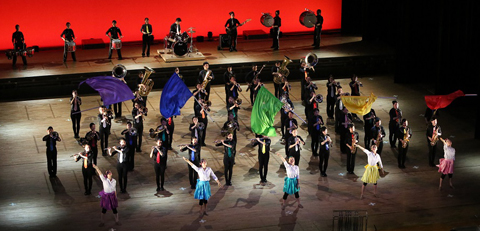 Hamamatsu Municipal Senior High School Wind Orchestra

 Our school is only the senior high school in Hamamatsu operated by the city government.
 Operated as a girl's high school over 100 years, the school adopted co-education in 2005. With the school concept "Sincerity, Friendship, Loyalty" since Meiji era, the school gives priority to both advanced education and club activities respecting schoolwork and physical training together. Our wind orchestra club is engaged in various activities following the aim of "Development of Identity and Personality" and "Sharing and Harmonious Coexistence". We are conducting beautification activities in school and the community, expanding exchanges with other groups, elementary and junior high schools in the hope to be loved by schools, communities and citizens through our activities.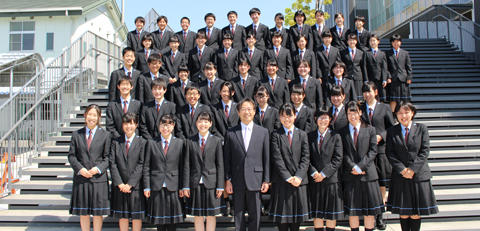 Hamamatsu Kohoku Senior High School Wind Orchestra

 According to the merger of Mikkabi, Kiga and Inasa Senior High School, Kohoku Senior High School offering 4 full-day courses of general, agriculture, industry and commercial, was uniquely established 4 years ago. Our wind orchestra club consists of 46 members in all (1st graders: 22, 2nd graders: 16 and 3rd graders: 8) and is rapidly attracting students' attention. Nearly half of the members, however, are new to instrumental performance, switching from athletic clubs in junior high school days to music. Today we will perform a medley of 4 school songs including 3 of the former schools as well as the current one, subsequently an original wind music piece by a Japanese composer and pop music pieces. We sincerely hope you all will enjoy our performance.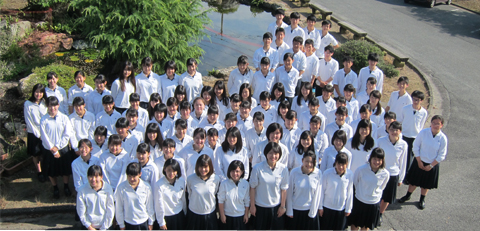 Hamamatsu Koto Senior High School Wind Orchestra

 Our school stands on a hill in Ohitomi in the western part of Hamamatsu with a stately 5-story school building. In spring, new students are welcome by the cherry trees with their blossoms in full bloom. In autumn, the wind orchestra members are actively participating in local events and even small concerts such as "Promenade Concert" or "Water Mill Concert", which we appreciate as valuable opportunities to interact with the community people. Still inexperienced in performing, we are grateful if you could warmly watch over our performance and give us your support and encouragement.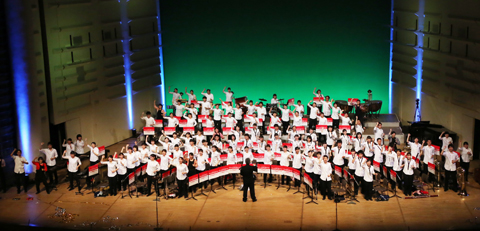 Hamamatsu Konan Senior High School Wind Orchestra

 Surrounded on three sides -east, north, and west-by Lake Hamana and facing the Pacific on the south, our school is located at a very scenic place. Formed in 1983 when the school was open, our wind orchestra club marks its 35th birthday this year. The orchestra has been highly evaluated as one of the outstanding high school wind orchestras in Shizuoka Prefecture for its various musical activities such as participation in National Culture Festival for Upper Secondary High Schools in Wind Instrument Music Category. Especially last year, we were awarded both Gold Medal and Chairperson's Prize at Central Japan Band Competition Finals, which was our best achievement than ever.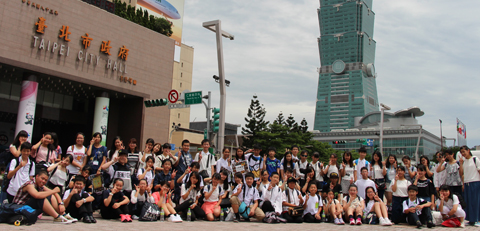 Hamamatsu Municipal Kaisei Junior High School Wind Orchestra

 With the password "Strive Over the Top – Kaisei Sound Filled with Our Hearts, Re-challenge That Stage in the Limelight, Kaisei Junior High School Wind Music Club is aiming to build up fellowship across grades which can mutually enhance one another. Besides, we try to keep in mind to fulfill our duties as junior high students before honing our performance skills. We are well engaged in day-to-day activities with three important pillars: community activities, competition participation and exchanges with musical groups in and outside of Japan. As exchange activities, we had a chance of an exchange concert with Taipei Lishan High School when invited as the first Japanese junior high school wind orchestra to the 10th Annual Taiwan Clinic in Taiwan 2017. In return, we are going to invite the school to Hamamatsu for holding an exchange concert on July 7 during their homestay. We hope to develop further our exchange activities in and outside of the country through wind instrument music. We deeply appreciate the opportunity to perform at this Conference. As a wind orchestra representing Hamamatsu, City of Music, we will make greater efforts than ever.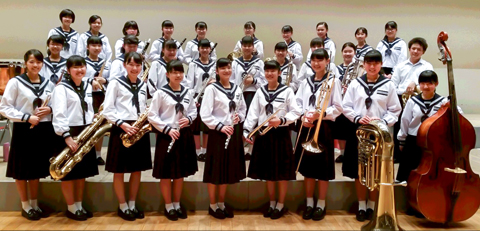 Hamamatsu Municipal Aratama Junior High School Symphonic Band

 We are trying to create music that can please as many people as possible, taking advantage of every opportunity. Regardless of age, music can be lifelong enjoyment, and friends made through music will be irreplaceable throughout our lifetime. No matter what country or culture we are from, the music that can inspire us is always filled with the "heart" of the performer. We sincerely hope to continue our music activities together as long as we can while appreciating our fortunate meeting and emotional ties brought by music.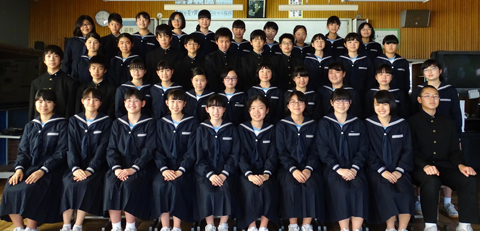 Hamamatsu Municipal Sekishi Junior High School Symphonic Band

 All members of our wind music club are engaged in everyday practice with the motto "IchiOn SouShin ~Putting Our Souls into Single Sound". Keeping our ideal and motivation high so that people will be impressed by our performance, we are trying to improve the atmosphere of the club taking good care to greet and respond lively and clearly. We are also trying to be very positive to exchange our ideas and opinions with mutual understanding of the situation around us. We hope to perform as best as possible on the actual stage.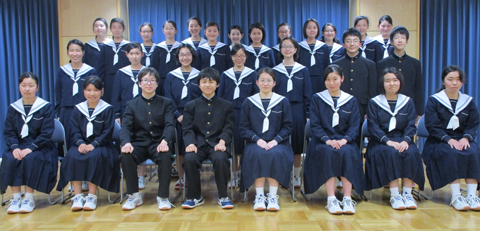 Hamamatsu Municipal Shijimizuka Junior High School Symphonic Band

 Our club consists of 28 members in total (1st graders-13, 2nd graders-7 and 3rd graders-8). We are engaged in everyday practice with the motto that each member should take on practice with his/her clear task within a short period of activities. We hope to move people through our performance believing there must be such music as can be created only by junior high school students who get connected during the school years. Although we still have some technical problems in performing, we will try as best as we can to improve our skills.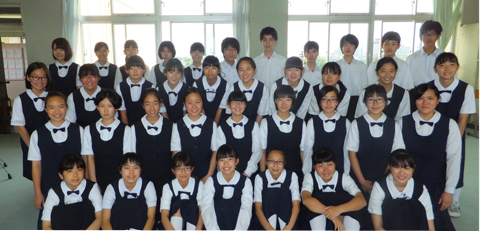 Hamamatsu Municipal Takadai Junior High School Symphonic Band

 39 members of our wind music club are working together with the motto "Vivo! Music: Lively Music and Actions". Although the club is small, every single member is very diligent in everyday practice, remembering his/her strong wish to perform music which can make people happy. We completed our 35th regular concert (the largest number among the city's junior high schools) in March this year as we do every year. Today and forever, we will make our best efforts to be able to pass on "Takadai Sound" developed by our seniors.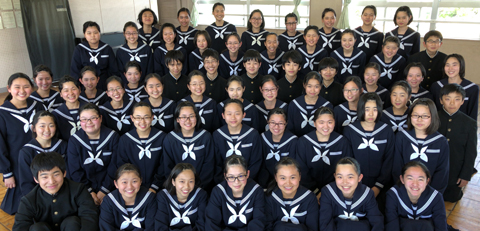 Hamamatsu Municipal Tenryu Junior High School Symphonic Band

 We are aiming to develop such a wind music club as is loved by our locals through a lot of performances and concerts. With the club motto "Kanso ~Bring Our Dream into Shape", we all have been devoted to creating music to fulfil the motto. We are extremely honored to be given an opportunity which will allow 36 members to showcase "Tenchu Sound" to resound in the hall. We will do our best to perform, and sincerely hope you will fully enjoy our performance.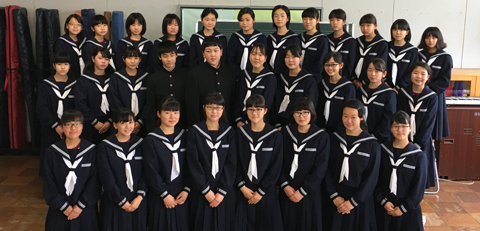 Hamamatsu Municipal Hosoe Junior High School Symphonic Band

 With the motto "Caring about Others and Performing with Love", 30 members in all (1st graders-12, 2nd graders-10 and 3rd graders-8) are engaged in daily practice while respecting an attitude to encourage and enhance one another. We are participating in numerous community activities such as the Princess Road Procession (Hime-Sam Dochu) or Gion Festival hoping our club activities will be loved by locals. Our activities also include regular school concerts, Orange Concert as well as participation in competitions. We won Gold Medal in B-Formation Category at the Shizuoka Competition for the 60th Central Japan Band Competition.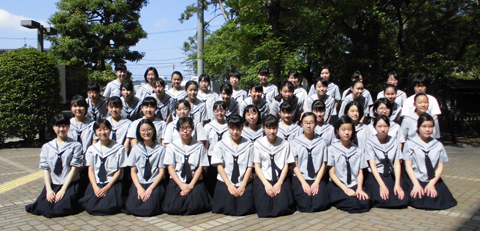 Hamamatsu Municipal Mikatahara Junior High School Symphonic Band

 Our school has 602 students in all, located in North Ward of Hamamatsu City. It is rather a new school with 35-year history setting its concept "Foster independence and togetherness on the earth". Our wind music club was formed when the school was open. We are engaged in our musical activities with three pillars: concerts, competitions and marching. With our annual concert as the biggest event, we perform on the stage almost 30 times a year including Promenade Concert, festivals in the community among others. We have achieved appearance in three consecutive Japan Marching Contest Tokai Prelims. Our marching performance has been well received at sports festivals, drill at outdoor concerts, parades and ceremonies.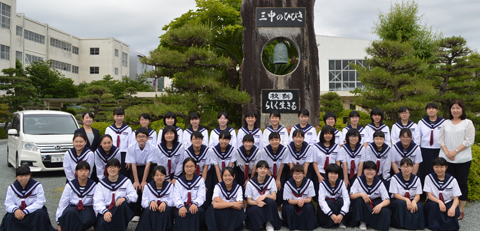 Hamamatsu Municipal Mikkabi Junior High School Symphonic Band

 Surrounded by Inohana Lake and mountains, our school is located in a rich natural environment in the westernmost point of Hamamatsu. 39 out of 336 students belong to the wind music club. Although most of the members are novices at wind instruments due to no brass band clubs in the elementary schools around this area, all members are devoted to everyday practice with honesty and genuineness while facing their own sounds. The club is aiming not only to achieve a gold medal in a competition but to make such a performance as will make people feel enjoyable and beautiful.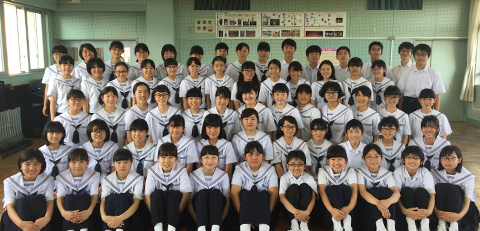 Hamamatsu Municipal Koto Junior High School Symphonic Band

 Our school has the largest number of students in Hamamatsu. The wind music club is also large with 71 members. Our active musical activities include not only participation in competitions or contests but various events in the community. We attract many people to our fiscal year end concert held in our gymnasium. With the password "Heart to Heart", we are engaged in day to day practice in order to create beautiful sound while valuing the basic practices.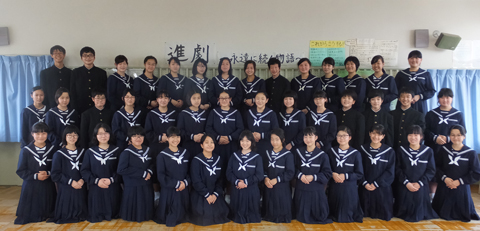 Hamamatsu Municipal Shinohara Junior High School Symphonic Band

 With the motto "Shingeki ~ Never-ending Story", our wind music club, consisting of 21 first graders, 6 second graders and 14 third graders, is active in musical activities. Thanks to the first graders covering half of the whole members, the club has got more vibrant than ever, and we all enjoy this lively atmosphere.
 We have been practicing in order to demonstrate our own talents as much as possible. Keeping our club tradition, we hope to continue to create our own music. We will perform on the stage with our utmost effort to transmit "Sound of Shinohara Junior High School" and bring a lot of enjoyment to audience.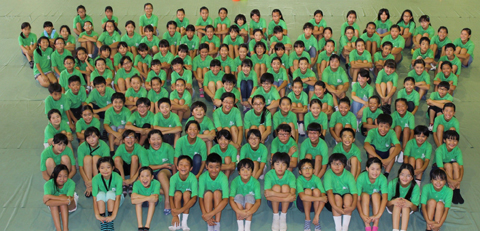 Hamamatsu Junior Wind Orchestra

 Hamamatsu Junior Wind Orchestra was formed in 2010 with the aim to improve performance skills and expression ability of elementary students in Hamamatsu. In this 9th year, 96 students from 13 schools are vigorously engaged in musical activities.
 The members including several novices at musical instruments wish to make good progress in performance through monthly joint practice and Wind Instrument Music Seminar sponsored by Hamamatsu ACT CITY Academy of Music.